Podcast: Play in new window | Download
Subscribe: Apple Podcasts | Android | RSS
Hosts: Dave Homewood and James Kightly
Recorded: 24th of November 2015
Duration: 1 hour 49 minutes 24  seconds
In this Wings Over Australia episode, Dave Homewood and James Kightly visit the world famous Australian War Memorial in Canberra. This is a superb museum covering all aspects of Australia's military history from the Boer War and WWI through to WWII, Korea, Malaya, Vietnam, the Gulf War, Iraq and Afghanistan, and beyond. And the Memorial commemorates those who lost their lives in the service of their country.
In the discussion as they walked around the museum, Dave and James concentrate mainly on the aviation side of things, with particular emphasis on the aeroplanes in the collection from World War One and World War Two. There are some particularly interesting displays, including the Striking By Night display that incorporates an Avro Lancaster bomber with a Messerschmitt Bf109G night fighter, an 88mm anti-aircraft gun, and lighting, sound and video effects.
Another display of note is the Over The Front display which has genuine WWI aeroplanes, brought to life by a very wide screen film made by New Zealand's own Sir Peter Jackson and narrated by New Zealander Sam Neill.
Much more is discussed too, in this very interesting and insightful episode.
Quick Links:
•  The Australian War Memorial's Website
•  The Australian War Memorial's Facebook Page
Dave's Photos from The Australian War Memorial
The Australian War Memorial
Click the thumbnails for larger versions
The Aeroplanes and Aviation Related Exhibits
Striking By Night – Avro Lancaster vs. Messerschmitt Bf109G and 88mm Flak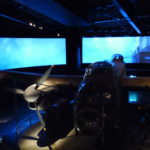 Over The Front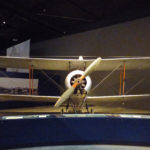 de Havilland Mosquito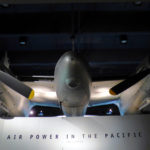 Hawker Sea Fury


Mitsubishi Zero


Curtiss P-40E Kittyhawkl


North American P-51D Mustang

  
Gloster Meteor cockpit


Bell UH-1 Iroquois


GAF Canberra nose


Supermarine Spitfire V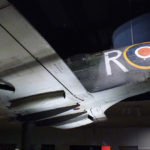 Mig 15 fuselage


Nakajima Hayabusa "Oscar"


CAC Wirraway

Avro Anson nose

Other Aviation Bits and Pieces

The Stella Bowen Painting James Discusses

New Zealand Mounted Rifles In The Foyer!!

Large Scale Model Dioramas
Outside the Australian War Memorial