Podcast: Play in new window | Download
Subscribe: Apple Podcasts | Android | RSS
Guests: Jim Thurstan, and Bob Delahunty
Hosts: Dave Homewood and James Kightly
Recorded: 26th of November 2015
Duration:  59 minutes 35  seconds
Dave Homewood and James Kightly continue the Wings Over Australia Tour with a visit to the Historical Aircraft Restoration Society at Albion Park in Illawarra, New South Wales. They talk first with Jim Thurstan, who is one of the volunteer engineers restoring the Fokker F-VII Trimotor "Southern Cross" replica VH-USU. At the time the HARS team were skinning the huge wooden wing.
And then James and Dave joined HARS chairman Bob Delahunty in the cockpit of the collection's flagship, the Lockheed Super Constellation, to talk about the history of HARS. Bob tells how it all started with an ex-RNZAF Harvard, and the rescue of the Lockheed Neptunes, which led on then to the recovery and restoration of the Super Constellation.
Huge thanks to the folks at HARS, and particularly to our host Peter Costigan, who volunteers on the HARS Catalina crew.
Quick Links:
•  The Historical Aircraft Restoration Society Website
•  The Historical Aircraft Restoration Society Facebook Page
The following photos were taken by Dave Homewood and James Kightly during their visit to HARS on the 26th of November 2016, with additional photos from James of the HARS aircraft in action. Any uncredited photos are the property of Dave Homewood ©2015
Jim Thurstan talking about the Fokker F-VII Trimotor "Southern Cross" Replica


Jim Thurstan, left, with Dave Homewood (James Kightly photo)


Dave and Jim recording next to the huge wooden wing of the "Southern Cross" replica (James Kightly photo)


Jim Thurstan shows how the failure in the Fokker's undercarriage leg occurred, with the circlip in his right hand,  that saw the aircraft damaged resulting in the rebuild HARS is undertaking (James Kightly)
The Fokker F-VII Trimotor "Southern Cross" replica wing being skinned. Jim Thurston is seen holding the plywood sheets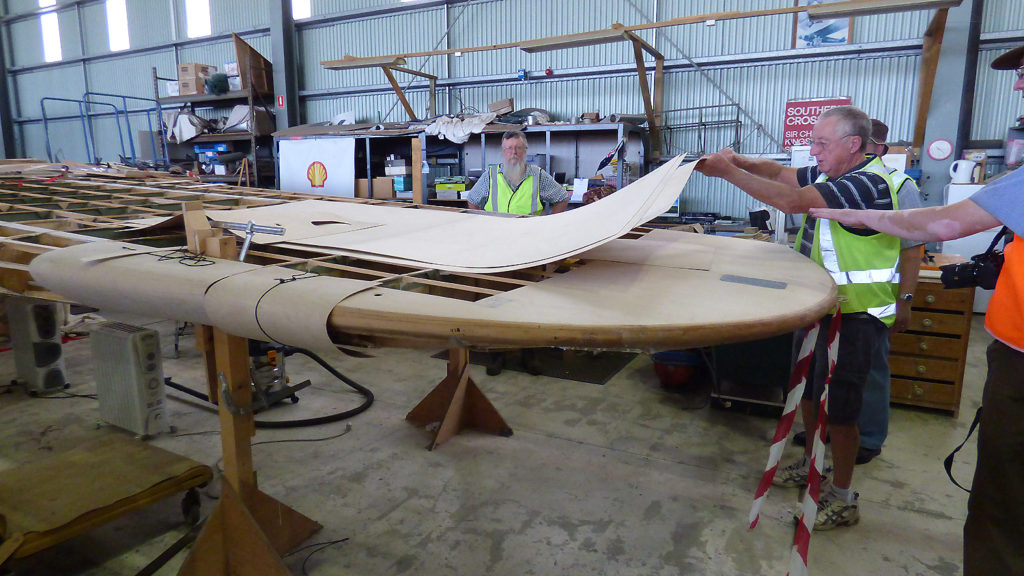 An underside view of what is actually the upper side of the wing (James Kightly)


Interior of the "Southern Cross" replica


The Fokker's cockpit (James Kightly)


The Fokker's fuselage (James Kightly)


The "Southern Cross" in better days, at Charleville, Queensland, 10 July 2001 (Phil Vabre photo)
HARS President Bob Delahunty

Bob Delahunty, the President of HARS, in the Constellation cockpit (Dave Homewood)

Above and below, Bob and Dave in the Constellation during the recording of this episode (James Kightly)

Bob discusses the Connie's radio fit with Dave. (James Kightly)
Lockheed Super Constellation


The classic postwar airliner cockpit in the Constellation. (James Kightly)

Some shots from James of the Connie in action


Connie flies the flag (James Kightly)


A few flames are often part of the Connie's display. (James Kightly)


Where possible dusk flights are impressive when flown by the HARS Constellation. (James Kightly)


The Connie is spritely at low load on take off, here seen at Avalon (James Kightly)


The elegant curves displayed over Temora in 2013.  (James Kightly)
The engine collection and other items in the foyer


Kite


Kawasaki Ki-61 Hien (Tony)


CAC Wirraway


Bell AH-1 Cobra helicopter


Restoration projects – Beaufighter cockpit on the right

Lockheed Neptunes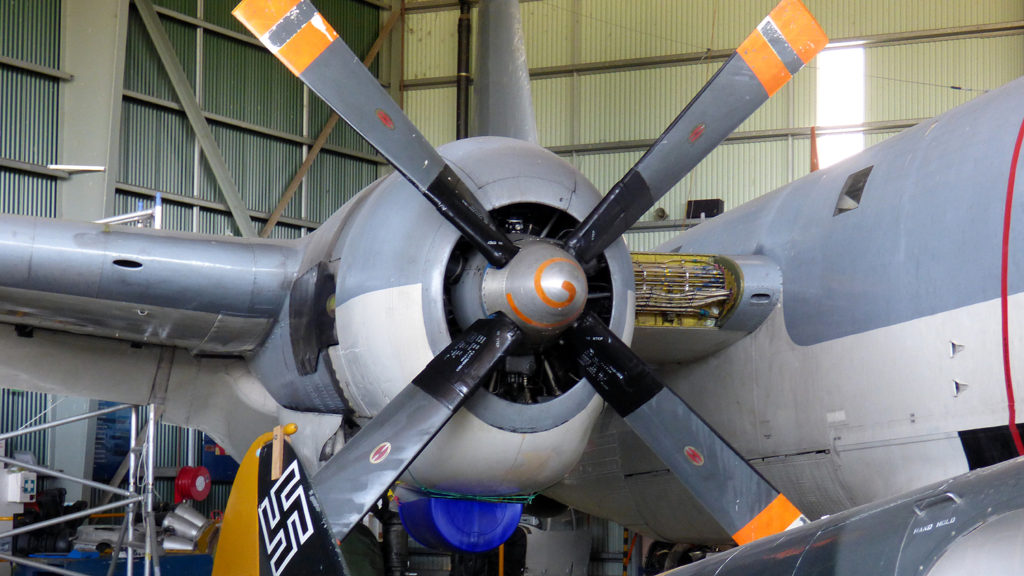 Piston and Jet engines on the Neptune


HARS' Neptune at Avalon (James Kightly)
Messerschmitt Bf108 (Nord 1002)


A Grumman Tracker behind the Bf108
Auster J5G Autocar


Douglas DC-4 0n the left

Aermacchi MB326 – now on a pole at their gateway entrance, and Mirage IIIO

A look over the HARS Black Cat Catalina


Catalina crew member and Wings over Australia Tour supporter Peter Costigan left, with show co-host James Kightly inside the Catalina


Show co-host Dave Homewood in the Engineer's position


Chad, I mean James


HARS volunteer and Catalina crew member Dick Simpson who assisted with the tour of this aircraft, leaning through the crew door


HARS volunteer and Catalina crew member Peter Costigan
Photos of the Catalina out and about from James Kightly


The HARS Catalina on take-off roll at Temora (James Kightly)

The Catalina overhead (James Kightly)

With the 'black cat' Felix visible, the Catalina touches down at Point Cook (James Kightly)
One of HARS's two DHC-4 Caribous

One of the HARS Caribou on take-off at Temora (James Kightly)
LET L-200A Morava
North American T-6 Texan VH-XAN

Douglas C-47 Dakotas


A HARS Dakota landing back at Avalon. (James Kightly)


The HARS Dakota with an admiring crowd at Point Cook in 2014 (James Kightly)

Dave amongst the HARS aircraft! (James Kightly)