Podcast: Play in new window | Download
Subscribe: Apple Podcasts | Android | RSS
Guest: Phillip Leech
(Flight Lieutenant Phillip Winfield Leech, RAF, Navigator-Wireless Operator/Air Gunner)
Host: Dave Homewood
Recorded: 15th of July 2017
Released:  20th of July 2017
Duration: 1 hour 20 minutes 43 seconds
Phillip Leech was an English-born member of the Royal Air Force, but he served as a Navigator on the Coastal Command Bristol Beaufighter torpedo bombers with No. 489 (NZ) Squadron. His pilot was Peter Branton, who was also RAF.
Phillip joined the RAF in late 1941 hoping to be a pilot, but the RAF had other ideas and after initial training in London and at Babbacombe, he embarked for Canada where he studied Navigation at Hamilton, Ontario. This was followed by a course in general reconnaissance at Prince Edward Island, before he returned to Britain where he did a course at Squires Gate, Blackpool, in beam navigation. Then he completed a wireless operator's course at RAF Cranwell.
Posted to the Operational Training Unit at Crosby-on-Eden near Carlyle, Phillip was only there for a day or so before being posted to No. 489 (NZ) Squadron, at RAF Leuchars in Scotland. He was teamed up with Pete Brunton and would have to learn to adjust to the Bristol Beaufighter and operations as he went.
Phillip talks all about life on the squadron, specific operations, and what it was like to fly operationally in the Beaufighter, making torpedo attacks on the German convoys off the coast of Norway, the shipping route up the Dutch coast, and various ports. Phillip served with the squadron also at RAF Langham and RAF Dallachy in Scotland.
When he finished his tour with No. 489 (NZ) Squadron Phillip was posted to an Air Sea Rescue squadron flying as navigator in Supermarine Sea Otters.
Quick Links:
•  Nine Minute Film of No. 489 (NZ) Squadron Beaufighters – Imperial War Museum
•  The No. 489 (NZ) Squadron Association Website
•  The No. 489 (NZ) Squadron Association Facebook page
Notes: My sincere thanks to Phillip's son David Leech for assisting in setting up the Skype interview. The music in this episode is from the Coastal Command suite by Ralph Vaughan Williams, recorded in 1942
Phillip Leech today (photo courtesy of David Leech).
All that remains of the wartime airfield today at RAF Dallachy in Scotland is the
old control tower  (photo courtesy of David Leech).

The Dallachy Strike Wing Memorial at former RAF Dallachy  (photo courtesy of David Leech)
The Dallachy Strike Wing Memorial at former RAF Dallachy
(photo courtesy of David Leech)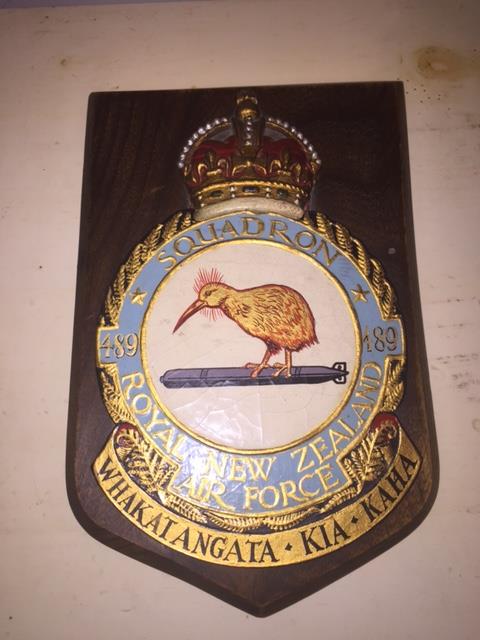 Phillip's No. 489 (NZ) Squadron badge
(photo courtesy of David Leech)
Phillip's No. 489 (NZ) Squadron badge, his wartime hat and a wartime photo of him
and his pilot and two others  (photo courtesy of David Leech)
A closer look at that wartime photo. Phillip is second from the right.
(photo courtesy of David Leech)
No. 489 (NZ) Squadron Photos Kindly Supplied by Don Wilkie
No. 489 (NZ) Squadron Beaufighter Artworks by Don Wilkie
If you'd like to learn more about Don's art, click here